GET TO KNOW US
The Clipper City CrossFit Difference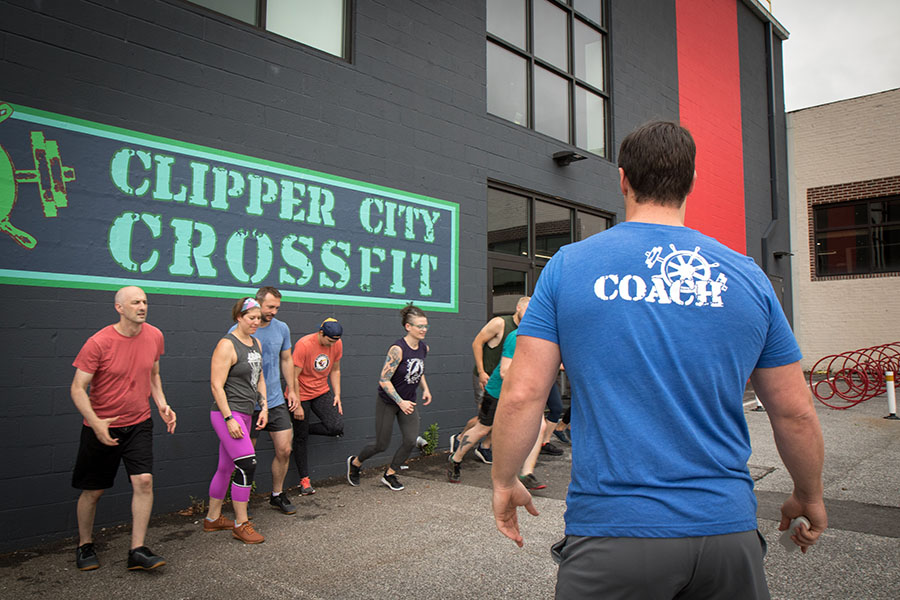 THE CLIPPER CITY CROSSFIT DIFFERENCE
Have you tried to reach your fitness goals before and failed? Let us help! At Clipper City CrossFit, we believe in taking care of the whole person. You don't just walk in, workout, and leave. You will receive personalized attention every step of the way. 
Whether you are looking for group classes, personal training, nutrition coaching, or specific skill or athletic training, we can help. We will help you set goals and achieve them.
Schedule a FREE Intro below and let's get you on your way to whole body health and fitness!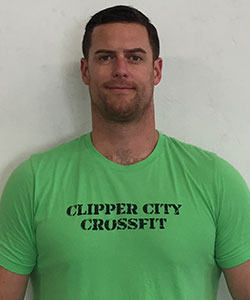 Matt Ropke - Owner/Coach
CrossFit Level 1 Trainer
CrossFit Level 2 Trainer
USA Weightlifting Certified Sport Performance Coach
CPR/AED/First aid certified by the National CPR Foundation
Athletics has been staple throughout my entire life and has come in many forms, driving me to many goals.
I was introduced to CrossFit a couple of years after it hit the fitness world, and haven't looked back yet. I initially began forging out fitness in my backyard and friend's garages but it wasn't till a few years ago that
I stepped foot in my first actual CrossFit Box, setting me into a hard focus. This focus was directed toward greater fitness and building Clipper City CrossFit.
Phil - COACH
Phil is a CF-L1 Trainer at Clipper City CrossFit (CCC). He enjoys the community spirit of CCC and everything that is sleeves-up, blue collar about Baltimore. Phil's not afraid to roll his sleeves up for max effort on the rig, main floor, or the rower as an athlete, but also likes to emphasize fitness for sustainability and longevity as a coach.
Phil gives back to the CrossFit community outside of CCC by volunteering and judging at local competitions.
At his full-time, he concentrates where medicine meets the law in biomedical regulations. Phil likes to spend his downtime catching rays over the grill, with a rod and reel in-hand, or even on the road, top down.
Andrea - COACH
I'm a tall lady, and I have pretty much been this tall since I was 14 years old. When I was a kid, I never considered myself an athlete. Kickball was the bane of my existence; in soccer, I was more interested in looking at the dandelions; and, in basketball, my only skill was being taller than the other 4th graders. Through college and grad school, a PhD in neuroscience, I steadily gained weight. Eventually, going upstairs became taxing.
Then, my roommate started CrossFitting. She'd come home and lie on the couch like a T-Rex, unable to straighten or lift her arms. I vividly remember telling her she was crazy for suffering needlessly.
However, I was intrigued, and when my local box released a crazy good Groupon deal for 10 classes, I bought it. The head coach slyly convinced me to sign up for a 9-class foundation course and THEN use my Groupon. In those classes, I started to develop powerful relationships with other members and I became captivated by the process. The scientist and teacher in me loved CrossFit's measurable, observable, repeatable methodology.
These days, I love using my pedagogical training to help others learn that they are more physically and mentally capable than they know. As a coach, my goal is to support each athlete to achieve their goals and to be stronger, faster, and more proficient through practice and perseverance.
To me, it doesn't matter if you are lifting 10 lbs or 100, as long as you show up ready to challenge yourself relative to your physical and mental health on that particular day. In my six years of CrossFitting, I have achieved things I never dreamed of doing, have come back stronger from injuries, and still, strive for more (I'm looking at you pull-ups).
I appreciate this sport for its intellectual and physical challenge and I appreciate Clipper City for its unique combination of CrossFit and community.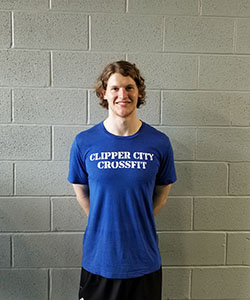 Brian - Coach
I came to CrossFit after the end of my college football career. I needed something new to train for, and the competitive aspect of CrossFit sounded appealing. Then I tried my first workout, and ended up flat on my back, gasping for breath, but happy knowing I had a new challenge to train for.
I still end up gasping for breath after most workouts, but the rewards of learning new skills, setting new PRs, and reaching new goals keep me coming back for more.
As a coach, I work to give others the tools they need to reach their own goals and accomplish things they never thought possible.
Outside of CrossFit, I am a PhD student at Johns Hopkins University studying astronomy and astrophysics. When I'm not staring at the stars or sweating in the gym, I enjoy going on adventures large and small with my wife and our dog.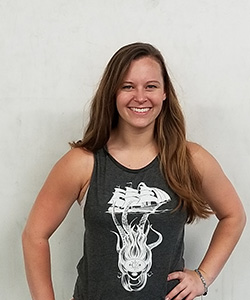 Kaitlyn - Coach
Growing up, I was a year roundsoccer and lacrosse player. When I graduated high school, and decided to not play soccer in college, I found myself in an exercise rut.
Working out by myself didn't give me the team aspect I was used to. In 2015, my amazing, strong mom (who had been doing crossfit for 2 years) somehow convinced me to join her.
It was the hardest I had ever worked out, and I loved it. I was totally hooked. Crossfit gave me that team aspect and sense of community I had been missing in my workouts.
My favorite thing about Crossfit is that I truly believe it's adaptable and scalable for everyone. As a coach I hope to meet athletes where they are in their fitness journey and help them achieve goals most important to them.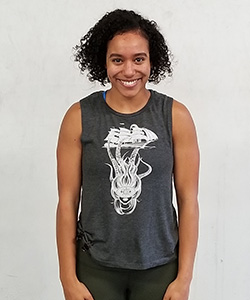 Asha - Coach
As someone who has always been pretty athletic, I was too comfortable in my workouts. I went to the Hopkins gym everyday, and would follow the same basic workout routines. I wanted a change, but because my schedule was packed I felt like I wouldn't have time.
A friend introduced me to Clipper City CrossFit and said the workout that day was only 12 minutes, so I tried it out. Longest 12 minutes of my life. The next day I felt like I had been hit by a truck, so of course I went back for another class. That was almost 3 years ago and each class still pushes me to my limit, plus some.
As a coach, I want to help others reach their goals – whether they come with some athletic background or none at all. There's something for everyone here. As a member of the Clipper City CrossFit community, I am part of an awesome, supportive, and diverse crowd.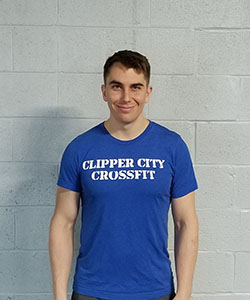 Raphael - Coach
CrossFit Level 1 Trainer
USA Weightlifting Certified Sport Performance Coach
Throughout high school I trained for four years to earn a 1st Degree Black Belt in Hapkido, a Korean martial art. In 2007 I discovered CrossFit and hit the workouts hard for a few years. Then I found a Mark Rippetoe affiliated Starting Strength gym and studied barbell lifting more extensively.
While there, I was also very fortunate to train under Leo Totten and "hang" with East Coast Gold, a national weightlifting team. They taught me a great deal about the Olympic lifts, bodily mechanics, and the importance of mobility. I then moved to the west coast and trained under Jay Tieder, a veteran of the USA weightlifting education staff; there I learned the finer nuances of longevity-oriented positioning – do ten perfect squats instead of 100 sloppy squats for a better body tomorrow.
Clipper City CrossFit is my new home and I strive to cultivate helpful health and fitness knowledge within the Clipper community and I love witnessing people make well-earned personal gains.
CLIPPER CITY CROSSFIT GOALS
Build community. Build stonger faster athletes. Have fun, enjoying the benefits of all the hard work.